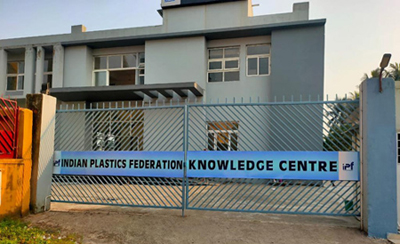 Indian Plastics Federation is setting up a"IPF Knowledge Centre"(IPF---KC)on a One Acre Plot within 50 acre operative Poly Park at Sankrail near kolkata. Site is within close proximity of hundreds of Plastic Processing units.
Certificates will be endorsed by NSDC ,which will be recognized by all Govt. Bodies.We also plan to provide Hostel facility to students in phase 2 of construction. The centre will also have Modern Library,Auditorium and a space earmarked for 'PLASTICULTURE' where the related industry will showcase latest development of use of plastics in Agri & Horticulture field.
IPF have appointed famous Architect Sanon & Sen Associates. We plan to apply for permission to start construction soon and on receipt of various statutory clearances, plan to start construction of ground floor of around 10000 sq ft with class rooms and prototype machines. Attempts shall be made to use maximum of plastics during construction of the centre.
Bhumi Pujan of the centre was held on 12th February 2014 in presence of Mr U.K.Basu , Managing Director , Haldia Petrochemicals Ltd.
Construction of the KC is in final stage of completion. The KC has started operations from August 2018.